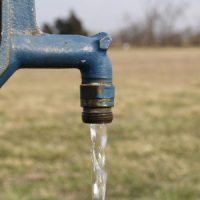 May 13, 2019
By Paragon News Director Paul Joseph –
Water is finally flowing out into the Rural Water District N umber 1 in Beckham County, however, not to each customer and some still have low pressure.
But, at least it's flowing again as the district's workers were able to get one of the two water mains repaired.
Elaine Street, office manager for the district, says water and water pressure – today – is a big improvement from over the weekend when the second of two main water lines broke on Friday night after the first broke earlier.
Street is still encouraging customers to conserve so that the district can build up the pressure in the existing line to serve all of the customers.
She says the voluntary, precautionary boil suggestion is still encouraged as the drinking water supplied by Beckham County RWD #1 may be unsafe for human consumption.
As a precaution, water authorities are advising consumers to bring water to a full, rolling boil for at least one minute before drinking, consumption, food preparation, baby formula preparation, dish washing, tooth brushing, ice making, wound care and bathing infants who may ingest bath water.
Additionally, water authorities are asking consumers to conserve as much water as possible until further notice.
It was first thought that it'd take a week to get everything back up and running.
It could still take a week, but Street isn't putting a date to the completed repairs – maybe a week, maybe less, maybe more.
Street says they're better able to get the word out through social media and will keep it up to date on the water pressure situation.
Generally speaking, Beckham County RWD #1 consumers can be considered as those in rural Beckham County including those in the communities of Carter and also those in Rocky and Sentinel in Washita County and in the Hicks Mountain community in Kiowa County.
– 30 –