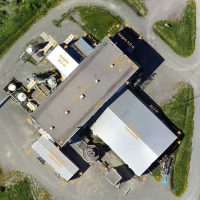 June 6, 2019
By Paragon News Director Paul Joseph –
Beckham County Commissioners unanimously approved a new contract with an aerial visual inspection company to help track new property improvements that may not have made their way to the tax roll.
Beckham County Assessor Jonathan Beck says Value Finder is a program offered to assessors around the country and even outside the country. They use aerial imaging to compare and make sure that assessors have every building and property improvement on the county's tax role. He says it's a way to make sure nothing has been missed or been built since the last time the particular property was assessed.
Beck says the price tag of about $5-thousand dollars could generate as much as $19-thousand dollars in new tax dollars to the county's tax roll.
He says it'll be a big help because the county's assessing staff is limited and unable to visually inspect every property every year. In fact, it's less often than that, so new properties may pop up that won't be on the tax roll – possibly – for several years. That short changes the county's overall revenues.
He says the cost is up to $5-thousand dollars. He explains that it's based upon what they find that's not on the current tax roll.
Beck says Value Finder is a company that is just now starting to contact assessors in Oklahoma and that Beckham County is one of the first counties in Western Oklahoma to utilize the new provider.
– 30 –