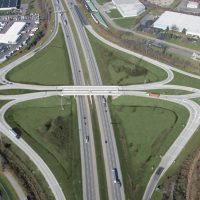 June 10, 2019
By Paragon News Director Paul Joseph –
Right now there's a lot of grumbling as drivers travel south of downtown Elk City and over Interstate 40 and it's not just because one of the two bridges are gone. It's also because some people are leery of the replacement bridges that are going back in, replacing them. They're being replaced with a D.D.I., a Directional Diamond Interchange. A relatively new concept in American and the first in the state of Oklahoma.
It only took demolition crews less than 48 hours early last week to completely remove the eastern bridge, though complete demolition lasted all of last week. Travelers on Highway 6 are using the western bridge which is down to just two lanes, one north and one southbound.
Oklahoma Department of Transportation engineers say the bridges had to come out as they'd become structurally deficient. They were old.
District 5 Engineer Brent Almquist says he thinks that once drivers get used to the two new replacement bridges that will soon be constructed, they'll begin to like them. They have a much better design and flow to them.
Besides the smoother transition from one side of the interstate to the other, the DDI is much safer.
The ne w interchange, which will take about a year to complete (they're shooting for next Memorial Day, (2020), costs roughly $16 million dollars. It was bid as a larger project that included the Sayre bridge over the North Fork of the Red River. That entire package was $28-million dollars.
Almquist says his department is also about to start on the last piece of State Highway 6, a construction project that's been on the design board for a long time. The last piece of the two-lane highway being widened to a four-lane divided highway will start under construction in September.
Additionally, Almquist's Division 5 set an ODOT record recently when it became the first division ever in Oklahoma to earn the Governor's Safety Excellence Award two years in a row.
The award is presented by ODOT annually to the field division with the best overall safety record within the previous year.
Almquist and Division 5 safety manager Richard Bright were presented the award last week at the June meeting of the Oklahoma Transportation Commission in Oklahoma City.
– 30 –