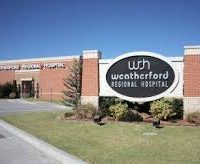 June 11, 2019
By Paragon News Director Paul Joseph –
Weatherford Regional Hospital leaders are slowly inching forward to formally requesting of the City of Weatherford to share in a future penny sales tax.
Weatherford's sales tax is expiring at the end of this year and it's thought city leaders will ask voters to renew the tax revenue sometime before it expires in 2020. As those informal discussions are beginning to take place, hospital leaders are making known their desire to seek a quarter of the one-penny.
Chairman of the hospital board, Doug Misak says Weatherford tax payers have always been extremely generous through the years on projects whether it's new fire or school system facilities, the Pioneer Center or the hospital. In fact, just a year ago, Weatherford voters overwhelmingly approved the reallocation of almost a million tax dollars for the hospital's future, approving the moving of $820-thousand dollars that had been earmarked for a new hospital surgery suite to other areas deemed more necessary at the time. Voters approved that by 84% of the vote.
He says the hospital board has officially voted to enter into discussions with the city about a possible 25% of the penny sales tax if the city will agree and put it on a future ballot.
When the tax was first approved in late 2004, there were three areas targeted to use the penny sales tax revenues, infrastructure improvements, the creation of the hospital and scholarship funds for Southwestern Oklahoma State University.
In 2010, the sales tax funds were dedicated to help build the new surgical wing, but surgical demand diminished, so the hospital asked voters to let it use the funds elsewhere in the hospital.
Misak says, if approved, the hospital board would like to use the new monies toward debt reduction, primarily.
On April 1 of last year, the hospital board voted to go under the management of St. Anthony Hospital of Oklahoma City, also called SSM Health Care of Oklahoma, though the hospital is still owned by the city.
Misak says there have been no formal discussions with the city about the possible upcoming sharing of the sales tax.
The hospital will be providing chemotherapy at its new oncology center and aiming to start seeing patients sometime the middle part of this month.
– 30 –