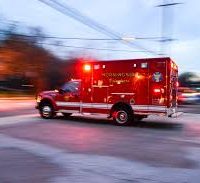 August 13, 2019
By Paragon News Director Paul Joseph –
A Seiling man remains in critical condition in an Oklahoma City hospital following a wreck in Blaine County.
60-year-old Jack Lewis Hicks was first sent to Okeene Municipal Hospital before being air transported to OU Medical Center where he arrived in critical condition with head, internal and external injuries.
According to the Oklahoma Highway Patrol, Hicks was traveling east on a 1999 Harley Davidson motorcycle when a 2017 Dodge Ram 1500 pickup driven by 37-year-old Robert Roy Morris of Higgins, Texas crossed the center line striking the motorcycle.
Morris was not injured in the accident that happened Saturday afternoon about 5:15 on State Highway 51, about three miles west of Canton. The wreck has been under investigation.
One person was treated and released while another person was hospitalized in an Amarillo hospital following a Tuesday morning wreck in Beckham County.
39-year-old April Burckhalter of Sweetwater was air transported to Northwest Texas Hospital in Amarillo this morning where she was admitted in stable condition with head, internal and external injuries.
Her husband, 50-year-old Benji Burckhalter, also of Sweetwater, was taken to Roger Mills Memorial Hospital where he was treated for a head injury and then released.
The two were traveling in a 2016 Ford F-350 south on State Highway 152 northeast of Erick when the right, front tire blew out causing the driver to lose control of the vehicle. It left the roadway to the right and struck a culvert.
The accident happened a few minutes before 11 am Tuesday morning about 10 miles north and five miles east of Erick.
The pickup was equipped with seat belts but they were not in use.
– 30 –