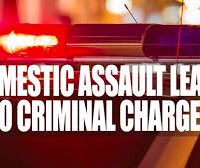 August 15, 2019
By Paragon News Director Paul Joseph –
Washita County authorities have issued a warrant for a Hydro man who's wanted on several felonies including two counts of child abuse.
39-year-old Kalon Kyle Hendricks, a previously convicted felon, is wanted on a $50-thousand dollar bond for an alleged crime in 2017 that includes domestic assault and battery in the presence of a minor and domestic abuse – assault and battery. The case was dismissed that year because the victim had moved out of the state and couldn't return. That same alleged victim later returned and in May of 2018 reported a domestic assault and battery involving Hendricks as a suspect.
Then in May of 2019, another domestic assault and battery was filed, this time in Custer County between the same parties.
On August 19, 2017 at approximately 2:28 am, Washita County Deputies were dispatched to a home in Corn regarding a report of a domestic disturbance.
According to a probable cause affidavit, Hendricks had allegedly assaulted his wife and two daughters while he was intoxicated.
While interviewing the alleged victim, the deputy observed bruising under both eyes and a small bruise on her neck. When asked, she told the deputy that those injuries were from a different incident two nights earlier. She said that Hendricks had attacked her and hit her repeatedly in the face. Hendricks had told her that she should have kept her mouth shut and "done what she was told to do" because she was his wife.
Hendricks' arrest record includes a criminal misdemeanor of assault and battery from 2013 and a felony assault and battery from 2018, both in Caddo County. Additionally, he was charged in 2019 with the assault and battery, 2nd subsequent as well as receiving four protective orders placed on him in 2004, 2019 and two in 2018.
– 30 –