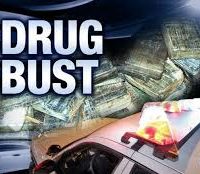 January 12, 2021
By News Director Jared Atha
A California man was arrested in Custer County recently after being found with just under 100 pounds of marijuana.




According to the Weatherford Police Department, an officer conducted a traffic stop on Interstate 40 near the 81 mile marker early Friday morning. The officer requested a K9 unit to conduct a free air sniff of the vehicle while he continued to conduct the traffic stop. Once the free air sniff was conducted the K9 officer indicated that the K9 had alerted to the presence of narcotics. A probable cause search was conducted and revealed approximately 97 pounds of individually vacuum sealed packages of marijuana located in several different plastic totes in the bed of the 2006 Chevy Avalanche Pick-Up.




Officials say 41-year-old Csaba Rudolph Fikker of Sherman Oaks, California was arrested and charged in Custer County District Court with trafficking in illegal drugs and unlawful possession of drug paraphernalia.




Fikker's first court appearance is a preliminary hearing scheduled for February 19.