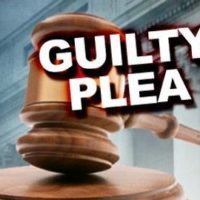 January 13, 2021
By News Director Jared Atha
During his formal arraignment in a Custer County courtroom, 29-year-old Joey Dale Pearson of Thomas plead guilty to multiple felony counts – including three counts of first-degree rape.
According to court documents, Pearson was arrested on July 2 after he visited the Custer County Sheriff's Office to deliver an apology letter for his actions. While at the office, he agreed to an interview where he allegedly admitted to having the inappropriate relationship with a 14-year-old girl.
He was arrested a short time later.
The reported stated that authorities became aware of the relationship on June 20 when a Custer County Sheriff's Deputy was dispatched to a home in Thomas in reference to a domestic disturbance. It was determined that Pearson had allegedly shoved the girl into a dining room table.
A few days later, during an interview with officials, the girl would state that she had been having a sexual relationship with Pearson that began at the start of the 2019 school year. She would tell authorities that during encounters with Pearson, she was threatened with bodily harm if she did not comply, or if she told others of their relationship – an accusation Pearson would deny during his July 2 interview.
During his arraignment on Monday, Pearson plead guilty to not only the three first-degree rape charges, but also two separate counts of rape by instrumentation, a solo count of forcible sodomy, two separate counts of lewd or indecent acts to a child under 16, and a solo count of assault and battery.
Pearson also faces pending charges in Blaine County District Court with one count of first-degree rape, one count of second-degree rape, one count of rape by instrumentation, two counts of forcible sodomy, and one count of lewd molestation.
Court records show that all those charges stem from several alleged incidents involving the same teenage girl in the town of Canton in the summer of 2019.
An outstanding warrant for arrest has been issued in Blaine County for Pearson. According to officials a hearing in Blaine County will not be scheduled until after Pearson's sentencing is complete in Custer County.
Pearson is due back in court for a pre-sentencing hearing on March 1.