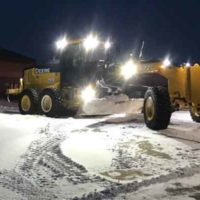 February 18, 2021
By News Director Jared Atha
It appears parts of southern Oklahoma and western north Texas were the big winners with the latest snowstorm.
According to the National Weather Service in Norman, that region received anywhere between 6 – 8" of snow Tuesday night and early Wednesday morning. North of that area that includes Washita County, and portions of Beckham, Roger Mills, and Custer Counties received between 4 – 6".
Elk City, City Manager Tom Ivester spoke recently of the city's recovery efforts after the storm. He praised city employees on how quick street crews were able to pre-treat roads before the storm, and clear main thoroughfares after the storm.
Ivester says the city crews worked over 24 hours before, during, and after the storm. He says as of Wednesday afternoon, there have been zero vehicular accidents because of ice and snow on roadways.