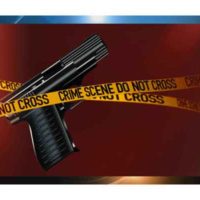 April 7, 2021
By News Director Jared Atha
A Hammon man was arrested and charged recently after being found with illegal drugs, drug paraphernalia, and a firearm with the I.D. number defaced.
According to a probable cause affidavit, 34-year-old Everson Jamelle Zotigh was arrested on the morning of March 31 in a home in Hammon near the Hammon Public Schools.
The incident caused the school to close for the day.
The affidavit showed that Roger Mills County Deputies were dispatched to the Hammon area after a report of a man pulling a knife on a Hammon homeowner in Custer County. The court document named Zotigh as the suspect, and said that he left the scene after the homeowner drew a pistol and chased him away.
The deputies knew that Zotigh had been frequenting a residence near the Hammon school and decided to wait at the residence until the Custer County Deputy they had been assisting, arrived. When the deputy arrived the officials announced their presence. After no response, the deputies searched outside of the home, including a truck that was suspected to be Zotigh's. Inside the vehicle the deputies would see a handgun and a large, clear, plastic bag containing what he believed was crystal methamphetamine. Deputies would also observe an extended magazine loaded with ammunition lying on the floor of the truck. It was at that point the deputies decided to call for backup and obtain a search warrant.
After obtaining the search warrant and after a Special Response Team from Washita County arrived, officials gained entry into the home where they would find the suspect alone in the home where he was arrested without incident.
A search of the home revealed a host of illegal item including guns that included a .380 caliber Smith & Wesson semi-auto pistol with the serial number scratched off, and a Glock 19 that after later examination turned out to be a BB gun. Authorities would also find a knife that allegedly matched the description of the knife used at the home in Custer County earlier in the morning. The search of the home would also find a set of digital scales, a plastic box containing numerous glass smoking pipes containing what would later test positive to be methamphetamine, and a container that would later test positive to be heroin.
Zotigh was booked into the Roger Mills County and later received four felony charges that include trafficking in illegal drugs, unlawful possession of a controlled drug with the intent to distribute, committing a felony with a firearm with a defaced ID number, and possession of a firearm after a former felony convection.
Bond for Zotigh was set at $100,000.