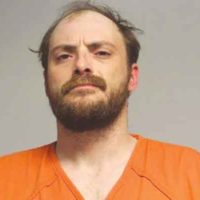 April 29, 2021
By News Director Jared Atha
A man accused of vandalizing the Great Plains Family YMCA Child Development Center in Weatherford plead guilty to the crime and was sentenced recently in Custer County District Court.
According to court records, 32-year-old Christopher Steven Jones was arrested April 4, 2020, for breaking into the Child Development Center and vandalizing several items.
He did this while wearing some odd clothing.
Court documents said that according to video surveillance Jones was allegedly wearing a bonnet, dress, pink tennis shoes and a diaper while committing the crime. He was also holding what appeared to be diapers in his hand.
Officials estimated the damages to the facility to be nearly $5,000.
Later police found Jones in a dumpster outside of the building. He was arrested and taken to the Custer County Jail.
After pleading guilty to the crime last week, Jones was given a 7 year sentence and will spend three years in the Oklahoma Department of Corrections, with the rest of the sentence suspended. Jones was also ordered to pay restitution costs of just over $3,500.