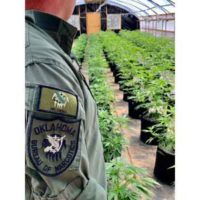 May 4, 2021
By News Director Jared Atha
Agents with the Oklahoma Bureau of Narcotics along with the Beckham County Sheriff's Office served a search warrant and conducted a raid Tuesday morning at a criminal marijuana growing operation in Erick.
Beckham County Sheriff Derek Manning says this operation is directly connected to a similar operation that the OBN shut down on April 23 in Guthrie.
The Sheriff went on to say that this could be the beginning of more raids in the future, as the investigation continues into similar grow operations throughout the state.
Manning says with the help of the county, the plants are currently being cut, loaded, and will be destroyed.
OBN Spokesman Mark Woodward says this is all tied to criminal organizations with one goal: moving the product onto the black market.
Woodward says increasing grow operations in western Oklahoma have caught OBN's attention, and urges anyone to contact authorities if they suspect illegal activity.
Sheriff Manning says no arrests have been made, however seven people who were at the property were detained and interviewed.