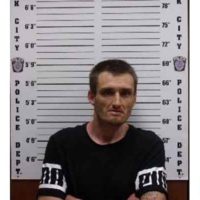 July 21, 2021
By News Director Jared Atha
An Elk City Man faces serious charges after allegedly holding his girlfriend against her will and abusing her on multiple occasions.
According to court documents, three infants were in the home during the incident.
A probable cause affidavit obtained by Paragon Communications alleges that 33-year-old Joshua Lee Sims held his then-girlfriend and triplet infants the couple share, against their will at the home on or before July 5. The woman would tell police that during the incident, Sims would abuse her on multiple occasions. Police would note in the affidavit that injuries such as a purple bruise on the corner of her left eye, multiple bruises on each arm, bruising on her legs, dark red and purple bruises on her throat, and bruising around the woman's collarbone were observed.
The woman told police that Sims allegedly threatened to stab the woman on one occasion, and choked the woman on another.
The victim said during a time when Sims left the home, she was able to grab the three babies, load them in her car and attempt to leave. While doing so Sims would return and follow her until she got close to the Elk City Police Department. This caused Sims to end his pursuit.
The woman was able to drop her kids off to a safe spot and report the incident to the police a short time later.
The report stated that the next day police were able to locate Sims but he would successfully elude police on foot. However he was later located in a vehicle. While attempted to pull him over, Sims would lead police on a short pursuit through city streets before ultimately coming to a stop.
Sims was arrested and booked into the Elk City Jail.
He was formally charged last week with one count of domestic assault and battery by strangulation, one count of assault and battery with a deadly weapon, kidnapping, escape from arrest or detention, and eluding or attempting to elude a police officer.
Sims is scheduled to appear before a judge on August 9.
Copyright 2021 Paragon Communications. All rights reserved. This material may not be published, broadcast, rewritten, or redistributed without permission.