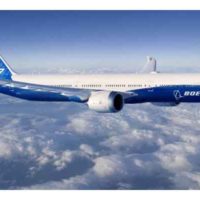 September 15, 2021
By News Director Jared Atha
It was announced recently that the Boeing Company plans to return to Clinton-Sherman Airport in Burns Flat to continue to test it's 777X aircraft.
Boeing had it's newest passenger plane in the western Oklahoma sky for testing last February – and the area saw an economic boon with the company renting hotel rooms, shopping, and eating at local restaurants.
In an interview with Paragon last February, Oklahoma Space Industry Development Authority Executive Director Craig Smith said Boeing has shown in the past that they like the airfield that Clinton-Sherman has to offer.
915 smith 1
Smith went on to say that Boeing's presence could possibly attract other businesses to utilize the runway in the future.
915 smith 2
Boeing officials say the tests are a part of their test program for the 777X, which consists of a series of tests and conditions on the ground and in the air.
Boeing says the 777X moniker refers to two new variants of Boeing's popular twin-aisle, 777. Neither the 777-8 nor its larger sibling, 777-9, is in service for commercial passengers but Boeing has taken 340 orders from airlines around the world at a cost of more than $400 million per plane.
Boeing test operations are based at Seattle's Boeing Field where the 777-9 took its maiden flight over a year ago.
No word on when the team from Boeing will arrive, or how long their stay will be at Burns Flat.
Copyright 2021 Paragon Communications. All rights reserved. This material may not be published, broadcast, rewritten, or redistributed without permission.