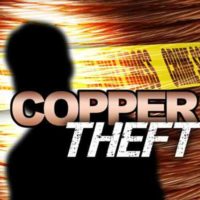 October 8, 2021
By News Director Jared Atha
An Elk City man was arrested and charged recently after attempting to steal copper out of a light pole.
According to the probable cause affidavit, 39-year-old Edward Lee Anderson was arrested on the afternoon of September 25 after police were dispatched to the area of 2300 East 3rd Street in reference to an individual stealing copper wire.
When police arrived they found Anderson in an alleyway behind a near by car dealership with a backpack with bolt cutters. When asked about the possibility of being in possession of stolen copper, Anderson would tell police that he was indeed in possession of copper wire, however he had found it in a ditch near Interstate 40. He stated that he used the bolt cutters to cut the wire down in order to fit in his backpack.
Police would make contact with a contractor with PSO who had reported the possible burglary. He would tell police that he witnessed the suspect cut the wire from the light pole.
Later that day a representative with PSO would come to the police department and advised that PSO would be pressing charges against Anderson.
Anderson was arrested and received a felony charge of possession of stolen copper.
His next court date is scheduled for November 8.
Copyright 2021 Paragon Communications. All rights reserved. This material may not be published, broadcast, rewritten, or redistributed without permission.