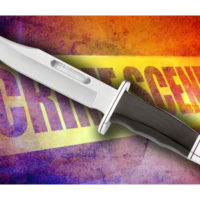 January 27, 2023
BKSO Press Release
A man was arrested by Beckham County deputies Thursday following a knife attack on a family member at a residence in Carter, located in Central Beckham County.
The Beckham County Sheriff's Office received the report of the attack shortly after 11 a.m. Thursday morning. The reporting party told police that the man had stabbed a family member and then left the residence in a pickup that belonged to another family member.
Deputies and other law enforcement, including troopers and deputies from Washita County, immediately began a search for the man, and he was located less than two hours after the attack, according to Beckham County Sheriff Derek Manning.
"My undersheriff located the vehicle south of Carter, and a brief pursuit ensued," said Manning. "The suspect headed back toward Carter and eventually stopped just south of Highway 55 near the Carter Fire Department."
Manning said the suspect exited his vehicle and began to move toward officers, but then complied with orders and was arrested without incident.
The suspect, Eli Fuentes, III, was booked into the Beckham County Detention Center on complaints including Assault and Battery with a Deadly Weapon;
Disrupting, Preventing or Interrupting an Emergency Phone Call; Larceny of an Automobile; Endangering Others While Eluding a Police Officer; and Driving with a Revoked or Suspended License.
Manning said the victim was flown to an Oklahoma City hospital with serious wounds from the knife attack.
Copyright 2023 Paragon Communications. All rights reserved. This material may not be published, broadcast, rewritten, or redistributed without permission.