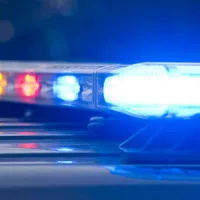 November 10, 2023
A California man was placed under arrest in Beckham County recently after refusing to pull over his semi that had a blowout on Interstate 40.
According to a probable cause affidavit filed by the Beckham County Sheriff's Department, 58-year-old Changqing Wu of San Gabrial, California was arrested on the morning of November 2 after leading Beckham County Deputies and Troopers with the Oklahoma Highway Patrol on a short pursuit on east bound I-40 near Elk City.
The affidavit said that deputies were dispatched to a possible semi trailer on fire near the 35 mile marker. When they arrived they found that the semi had suffered a blowout. When the deputy approached the driver's side to speak with the driver, later identified as Wu, he would drive away from the scene.
Deputies would pursue the truck and trailer that stayed on the shoulder and would only reach speeds up to 50 mph.
Eventually the semi was stopped with the assistance from the OHP, and Wu was arrested.
A passenger in the semi, who was asleep in the sleeper cab of the semi, would take possession of the vehicle.
The affidavit did not say why Wu chose to lead authorities on the pursuit.
He was arrested and booked into the Beckham County Jail.
He was later charged with one felony count of attempting to elude a police officer.
Copyright 2023 Paragon Communications. All rights reserved. This material may not be published, broadcast, rewritten, or redistributed without permission.