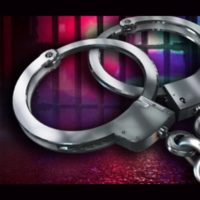 May 9, 2022
By News Director Jared Atha
A Clinton man was arrested recently after allegedly hitting a Custer County Deputy.
According to a probable cause affidavit, authorities arrested 39-year-old Daniel Austin Fonseca on April 22 after the altercation, and was charged with with one felony count of assault and battery on a police officer after a felony conviction in Custer County District Court.
The affidavit stated that the deputy was in the process of serving a protective order to the suspect at a home he was located at in Arapaho. The court document stated that when the deputy arrived he asked Fonseca to identify himself, which he did, then was read the protective order to him. He was then asked to vacate the property, but refused.
After being told a second time to leave, the suspect allegedly agreed, stood up, and hit the deputy on the left side of his face.
The affidavit stated that the deputy would eventually subdue and arrest Fonseca and transport him to the Custer County Jail.
A preliminary hearing for Fonseca has been scheduled for June 3.
Copyright 2022 Paragon Communications. All rights reserved. This material may not be published, broadcast, rewritten, or redistributed without permission.