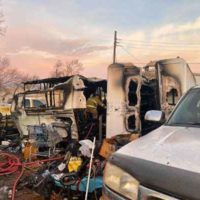 December 28, 2021
By News Director Jared Atha
A travel trailer parked behind a residential home in Clinton was lost in a fire early Sunday morning.
An occupant of the trailer was able to get out, but not before suffering injuries due to the flames.
According to the Clinton Fire Department, the fire occurred in the trailer behind a home in the 1700 block of Custer Avenue. When fire officials arrived, they would find a 70-year-old man suffering from burns and smoke inhalation issues after managing to crawl out of the trailer. The victim was transported to Clinton Regional Hospital and later transferred to an Oklahoma City hospital for additional care.
Fire officials said the cause of the blaze is still undetermined, but did note that the trailer was apparently using a large amount of extension cords from the nearby home.
Firefighters also said that a utility trailer also caught fire and burned, however firefighters were able to save a nearby storage building.
In all, it took firefighters two hours to extinguish the flames and clean up the scene.
Copyright 2021 Paragon Communications. All rights reserved. This material may not be published, broadcast, rewritten, or redistributed without permission.