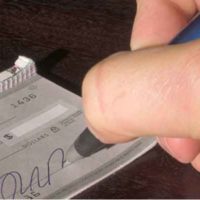 December 29, 2021
By News Director Jared Atha
A Clinton man is wanted in Custer County after he allegedly issued and cashed a counterfeit check at a Clinton business.
According to court records, an outstanding warrant for the arrest of 31-year-old John Erick Barron was issued on December 14 after being charged in Custer County District Court with one felony count of uttering a forged instrument.
A probable cause affidavit shows that Barron allegedly cashed the fraudulent check at the business on September 3 while claiming it was part of a reimbursement on a recent home sale.
After the check was determined to be a fake, the business owner first attempted to make arrangements with the defendant to pay the money back, however after not cooperating with the business owner, police were contacted in November.
As of press time, Barron has not been arrested.
Copyright 2021 Paragon Communications. All rights reserved. This material may not be published, broadcast, rewritten, or redistributed without permission.