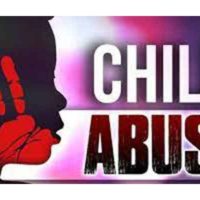 January 24, 2022
By News Director Jared Atha
An Elk City couple were arrested and charged recently with child abuse after their 1-month-old baby suffered multiple fractures to her body.
According to a probable cause affidavit 22-year-old Dalton Ray Denny and 19-year-old Kristen Denay Gilbreath were charged last week in Beckham County District Court after police were contacted by the Department of Human Services on January 10 regarding an infant that had been admitted into OU Children's Hospital with a broken leg. Police would discover that after an examination at the hospital, the 42-day-old infant had 6 confirmed fractures in her body in all different stages of healing – and it was documented by medical professionals that the injuries were specific for child abuse.
During an interview with Gilbreath, she would tell police that Denny had been rough with the baby when he become frustrated. While speaking with Denny, he would allegedly confess to handling the child rough a couple of nights before the baby was taken to the hospital.
He subsequently would write an apology letter about the incident.
Bond for both Denny and Gilbreath was set at $100,000 each.
Copyright 2022 Paragon Communications. All rights reserved. This material may not be published, broadcast, rewritten, or redistributed without permission.