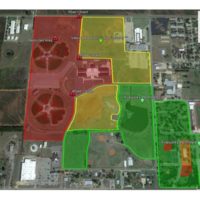 July 1, 2022
By News Director Jared Atha
The annual fireworks festivities are returning on the 4th of July in Elk City's Ackley Park.
Elk City Fire Chief Kyle Chervenka says currently there is a map on the City of Elk City's Facebook page detailing where one can light fireworks, and observe the city's firework display as well. He did note that with the new Arrowhead Center still under construction in Ackley Park West – the map has some changes.
Chervenka reminds the public that fireworks set off inside the city limits are allowed only on Monday (July 4) from 6:00 p.m. to 11:59 p.m. at the park.
He also says that although recent rains have helped the region's drought situation, there is still a threat of wildfires in rural areas with high vegetation, and asks anyone choosing to set off fireworks in those areas to practice caution and use common sense.
Copyright 2022 Paragon Communications. All rights reserved. This material may not be published, broadcast, rewritten, or redistributed without permission.