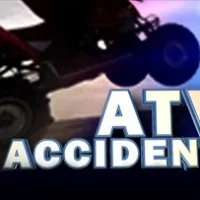 November 6, 2023
Tragedy over the weekend near Erick that saw a teenage boy lose his life in an ATV accident.
According to the Oklahoma Highway Patrol, the accident occurred just after 4 p.m. Saturday on a county road a mile and a half northeast of Erick.
Troopers said the cause of the accident and what happened is still under investigation, but did say a 12-year-old was driving the ATV at the time of the crash. As a result, a 14-year-old boy from Erick was taken to Great Plains Regional Medical Center in Elk City, where he was pronounced deceased by medical staff.
The driver was also taken to GPRMC and was treated and released.
Copyright 2023 Paragon Communications. All rights reserved. This material may not be published, broadcast, rewritten, or redistributed without permission.