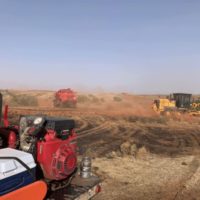 May 10, 2022
By News Director Jared Atha
Local fire departments were busy in Roger Mills County Tuesday afternoon battling multiple fires.
According to the Roger Mills County Emergency Management Office, crews from Crawford, Hammon, and Strong City were requested by Leedey fire officials to assist with a fire near Rhea. A short time later, crews from Berlin were paged to a fire on State Highway 6, however their plans changed when a larger fire broke out on State Highway 283 north of Grimes Road.
Eventually that fire was contained by multiple departments that included all departments in Roger Mills County, Roger Mills County District 1 and 3 and the Sayre Fire Department.
Officials say crews from Crawford and Strong City were eventually released from the Rhea fire and sent to help assist Berlin along with the Beckham County Task Force, Canute and Willow Fire Departments.
No official word on how many acres were burned in the multiple fires. There were no reports of structure damage or injuries.
The cause of the fires are still under investigation.
Copyright 2022 Paragon Communications. All rights reserved. This material may not be published, broadcast, rewritten, or redistributed without permission.