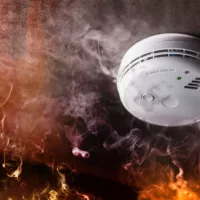 November 7, 2023
Two people were hospitalized early Sunday morning with burn injuries after the Clinton Fire Department responded to a house fire at 425 Wise Ave. around 4:28 a.m. which left about a third of the structure in need of repair.
Fire officials say they received a call on the fire and were told that all occupants were out of the house and when they arrived they found that the fire inside the duplex was contained to one unit's living room.
Officials said a man and a woman were in the home when the fire started and were able to escape with the man wrapping the woman in a blanket before running through flames and out the front door. Unfortunately the man would suffer second and third degree burns on roughly 40% of his body.
The woman's injuries were not disclosed.
It is estimated that nearly 30% of the structure suffered damage.
Fire officials say the cause of the fire is still under investigation. It was noted that no smoke detectors were installed in the home.
Copyright 2023 Paragon Communications. All rights reserved. This material may not be published, broadcast, rewritten, or redistributed without permission.