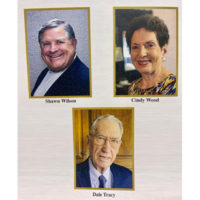 November 16, 2022
By News Director Jared Atha
The 50th Annual Western Oklahoma Hall of Fame Banquet hosted by the Western Oklahoma Historical Society was held Tuesday night at the United Methodist Church in Elk City.
Three Western Oklahoma residents that included long time broadcaster Shawn Wilson of Elk City, educator Cindy Wood of Elk City, and longtime farmer and member of the Cheyenne School Board Dale Tracy were honored and inducted into this year's hall of fame during the ceremony.
All three inductees were introduced by colleagues before giving speeches that recalled their past and the gratitude of life in Western Oklahoma.
Wilson spoke about how fortunate he was to have found a home in Western Oklahoma after moving to the area from Missouri.
Wood talked about her many years in education, teaching in Elk City.
Tracy had high praise of the Western Oklahoma Historical Society for their preservation of the region's history.
Wilson, Wood, and Tracy are now three of the 176 inductees into the hall of fame.
Copyright 2022 Paragon Communications. All rights reserved. This material may not be published, broadcast, rewritten, or redistributed without permission.