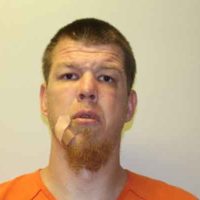 November 22, 2021
By News Director Jared Atha
A murder trial in Custer County came to a close on Thursday and along with it a, verdict.
38-year-old Dennis Ray Rigsby was found guilty of first degree murder – deliberate intent by a jury after closing arguments saw the defendant and the defendant's brother removed from the courtroom that forced a 15 minute recess.
The outburst first came from Rigsby during the prosecution's closing arguments. He would interrupt the prosecutor by saying "I object" which prompted the defendant's brother to yell at him. The judge in the case first removed the defendant's brother, but shortly after re-starting the closing arguments – Rigsby would interrupt the state again.
This time the judge removed Rigsby and called for a 15 minute recess.
Once the trial resumed, both men were allowed to return to the courtroom under the condition that both remained silent.
After deliberations, the jury would find Rigsby guilty of the crime and recommended life without parole.
Rigsby was convicted of the crime after killing his mother in a camper at a convenience store on Interstate 40 east of Clinton on the morning of June 6, 2020.
Sentencing for Rigsby has been scheduled for December 20.
Copyright 2021 Paragon Communications. All rights reserved. This material may not be published, broadcast, rewritten, or redistributed without permission.