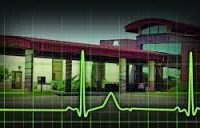 December 4, 2017
By Paragon News Director Paul Joseph –
Sayre's new hospital is suffering from an immediate cash flow issue. Management says, however – though it was unexpected – they'll soon have it rectified.
Sayre Community Hospital opened its doors on Monday, July 10, 2017, and, according to the hospital's CEO, has been busier than expected ever since. Robert Hicks says, much busier. That, however, is one of the reasons for the financial crunch.
But, payday – last Friday – employees went without a pay check, an issue that is to be rectified immediately. Hicks says that's the issue he's been consumed with over the weekend and all day Monday.
Hicks says the main reason the hospital is suffering from a current cash flow situation is that the hospital is collecting a very small percent of outstanding amounts due it for services rendered over the past few months.
He says Medicare, Medicaid and other insurance companies won't reimburse a new hospital without a new Medicare number provided by the federal government. Obtaining that number follows a successful survey, a Conditions of Participation for Medicare Survey. The Oklahoma Health Department, one of the agencies that performs the survey, came in early October and surveyed the hospital, but with new staff and changing conditions within the industry, the hospital failed the survey. He says, "Simply put, our staff was not ready for the first survey" resulting in a delay of cash collections for up to two to three months.
Hicks says the discrepancies have been addressed and corrected, but the state health department doesn't have enough money in its budget to resurvey the hospital for months, so a new survey company – DNV, an international healthcare accreditation company – has been secured and will soon be out to survey the hospital, though it only comes on surprise visits, meaning Hicks doesn't know when their company reps will be here. He hopes within the next two weeks.
He says – assuming the hospital passes the next survey – it'll become nationally accredited at that time and Medicare will start paying claims, though it may be several weeks before Medicare's first reimbursement check comes.
But, as for today, it's "first things first" and that means paying employees.
Hicks says these financial challenges weren't in the hospit al's business plan, but he says with an infusion of cash today and a "soon" and successful accreditation survey, it'll be back to business as usual.
In fact, there's millions of dollars of reimbursables out that are due into the hospital. The staff is waiting on the money to come in, but it's all contingent upon the Medicare number.
Hicks also says, the actual volume of both inpatients and outpatient procedures have far exceeded the initial budgeted volume. In many departments, the actual volume is higher by over 100% than the initial budget. In some departments, it's higher by 300 to 400%. The effect, he says, is that the hospital – more often – purchases replacement supplies and equipment with no cash reimbursement.
Additionally, the surgery department began operations two months before it was budged to begin. He says there have been 20 to 25 surgical procedures performed each week at Sayre Community Hospital, a fact only a few people are aware.
He says the emergency room has also been busier than anticipated. In fact, its double the number than what was initially expected and most of those patients have no insurance, so the hospital has to write the cost of those services off.
Many people, Hicks says, are unaware that the hospital treats all patients with health insurance as if they are "in-network." Hicks says many people aren't aware of their policy and – because the hospital is new – assume that the hospital is out of the prospective patient's insurance network and assume that their current medical insurance provider won't cover services performed at Sayre Community Hospital. Hicks says that's not true and that they've worked hard to get the word out regarding their policy, but many people are still misinformed.
Hicks says, once the current cash flow crunch is behind him and the hospital, it'll be back to business as usual, including the continual recruitment of physician specialists to Sayre.
The earlier hospital, Sayre Memorial, closed its doors on February 1, 2016. It had been owned by the City of Sayre and had utilized a number of management contractors over the years. At the time of closure, the city was kicking in local sales tax dollars to keep the hospital afloat.
After being closed a year and a half, the hospital has unlocked its front door and began welcoming patients as Sayre Community Hospital, owned and operated by Hicks and a business partner of his. It opened in July with 65 employees and recently employed over 80 people, making it the second largest employer in the community behind the school district.
Payroll has averaged approximately $350-thousand dollars a month.
Hicks remains optimistic and he sees brighter times ahead.
-30 –