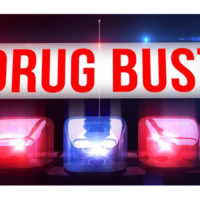 January 3, 2023
By News Director Jared Atha
A Shamrock, Texas man is accused of making and/or dealing methamphetamine after authorities discovered the illegal substance during a traffic stop Friday afternoon.
Authorities said the traffic stop occurred around 3:30 p.m. Friday, when Wheeler County deputies found David Doebele to be in possession of the meth.
He was arrested and charged with possession of a controlled substance.
Later, it was reported that deputies executed a search warrant on Doebele's home in the 400 block of East 12th in Shamrock.
There they found 33 grams of meth in the home.
Doebele was also charged with manufacture or delivery of a controlled substance over 4 grams but less than 200 grams.
Copyright 2023 Paragon Communications. All rights reserved. This material may not be published, broadcast, rewritten, or redistributed without permission.