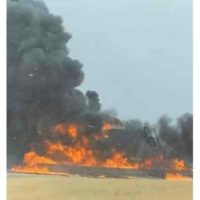 January 21, 2022
By News Director Jared Atha
A man was injured and a dog has died after a tank battery exploded in northeast Custer County.
According to Custer County Emergency Management Director Mike Galloway, the explosion occurred just before 2 p.m. Thursday. He said a large grass fire was sparked due to the explosion – however was quickly contained.
Galloway said the man who was injured at the scene had to be flown from the site to an Oklahoma City area hospital. He said at this time, his condition is unknown.
Galloway also added that a cause as to why the tank battery exploded has not been determined. He said officials with the Corporation Commission have been on site to try to determine the cause.
Copyright 2022 Paragon Communications. All rights reserved. This material may not be published, broadcast, rewritten, or redistributed without permission.