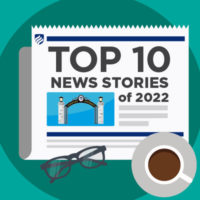 December 30, 2022
By News Director Jared Atha
The top 10 western Oklahoma news stories from 2022:
10. Esports Event Success At SWOSU
April 6, 2022
Southwestern Oklahoma State University's new Esports Arena was the site for the Oklahoma Scholastic Esports High School State Tournament on Friday, on the Weatherford campus.
Eighty high school students, including students from local schools, competed in various competitions at the event with multiple local students taking home high honors.
Local winners included from Elk City Chase Warren and Andrew Gordon winning first place in Rocket League Duos. Chase Warren, Andrew Gordon and Lake Hargrove winning runner-up honors in Rocket League Trios, and Aaron Frye, Chase Warren, Keaton Twyman and Brayden Leyja taking home first place in Fortnite.
From Arapaho-Butler Logan Pierce, Xavier Sawatzky, Damien Alexander, Eli Marshall and James Nguyen took home runner-up honors in Paladins while Canute's Trey Shelton, Mason Hoffman, Colton Estes, Lane Greteman and Brance Pitzer took home the State Championship.
Canute's Landon McKinley was state runner-up in Madden.
Founder and Executive Director of Oklahoma Scholastic Esports Brian Morris, who also doubles as Canute's coach, says the popularity of esports events in Oklahoma has grown exponentially over the last three years, and says he doesn't expect it to slow down anytime soon.
Morris noted that he has a student that will be attending Northwestern Oklahoma State University in Alva on an Esports scholarship. He said other students who are looking for ways to get to college, or any other way to continue their education after high school – Esports could provide them with that opportunity.
Other schools from the area that competed in last week's event included Clinton, Weatherford, and Altus.
9. Arrowhead Center Open
October 4, 2022
It was announced that the Arrowhead Center in Elk City has opened its doors to the public.
The announcement was made during the latest Elk City Commissioner's meeting on Monday night.
City Manager Tom Ivester says between now and the end of the year – there is no cost to enter and use the facility.
Ivester says the facility is open to the public between 7am – 7pm, Monday – Friday.
8. School Bond Issue Passed in Clinton
April 6, 2022
Voters returned to the polls on Tuesday and decided multiple school board races in western Oklahoma.
Two school districts in the area had propositions approved by voters as well.
A major bond proposition in the Clinton School District was passed with 76% of the vote saying yes to school improvements that include building a new middle school, replacing outdated wings at both Nance and Southwest Elementary Schools and Washington Elementary being turned into a college and career technology center for high school students.
Superintendent Tyler Bridges outlines the timetable of the projects.
Tornado safe rooms will also be added to the school sites.
In the Burns Flat – Dill City School District, voters approved two propositions. One will fund school facility improvements, and the other will address transportation needs with new school buses.
In area school board elections, Russell Mariano defeated Cinch Yake for a spot on the Sayre School Board by obtaining 60% of the vote. In the race for a seat on the Cheyenne School Board, Michael Boyett defeated Cailby Perez by getting 62% of the vote. The closest race of the day in the state may have taken place in the Merritt School District, with Dwight Spitz edging out Jason Kos for a position on the school board. That race was decided by 3 votes.
7. Fatal Explosion Destroys Clinton Home
May 18, 2022
An update from the explosion that destroyed a home early Tuesday morning in Clinton.
Officials have confirmed that two people passed away as a result of the blast that took place on the west side of town – on county road North 2200.
Names of the victims, an adult male and female, have not been released.
Clinton Fire officials said it is suspected that the home destroyed was either a trailer home or modular home.
No cause to the explosion has been determined. Clinton fire officials along with the State Fire Marshal, the ATF, and the Liquid Petroleum Gas Commission are working together on the investigation.
6. Threatening Texts Leads to OSBI Investigation – Protective Orders
June 22, 2022
The wife of a local State Representative has been granted protective orders in Custer County District Court against five individuals after an OSBI investigation into threatening text messages that she received last week.
According to a social media post made by District 57 Representative Anthony Moore, the texts were sent to his wife's personal cell phone. Moore's wife, Rachel, said the OSBI confirmed that four of the five individuals accused of sending the messages are affiliated with the Oklahoma Council of Public Affairs.
According to court records, the protective orders were filed against Hallie Milner, Johnathon Small, Dave Bond, Ray Carter and Mattison Miles, all from Oklahoma City.
5. Longtime Western Oklahoma Furniture Company Closing It's Doors
December 29, 2022
A longtime staple in western Oklahoma and Elk City is closing it's doors.
After operating in Elk City for 33 years, Terry's Furniture Showroom will be closing.
Longtime employee and Manager David Osterloh described the history of Terry's Furniture when owner-operator Terry Schones got the idea to open a furniture store in Elk City while working at a furniture store in Oklahoma City.
Osterloh said, to Terry – it just made sense.
Osterloh said the store is currently liquidating their remaining inventory and plan to open one final day for business on Monday.
It was announced in May that Elk Supply Company will be relocating their Elk City Ace Home Center to the building that will see the facility be renovated into a retail hardware store of 40,000 square feet and a building materials/lumberyard of 50,000 square feet.
Elk Supply also plans to utilize the vacant Long John Silver's Building as it's Lawn and Garden Center.
4. Plea Deal Reached in Weatherford Murder Case
December 12, 2022
A plea deal has been reached by parties in the murder case of a Weatherford man.
21-year-old Tryston Proa was charged in August 2021 with, among other things, 1st degree murder after allegedly providing illegal drugs to his roommate that was claimed to have resulted in the man's death.
The accepted plea will amend the murder charge to "manslaughter 2" with three years in prison with credit for time served. After time already served by Proa, he will need to spend another 6 to 8 months behind bars.
A separate plea to additional drug counts in the case will put Proa on 10 years of probation.
The plea deal came down shortly before jury selection began Monday morning in Custer County District Court.
3. Weatherford Detective Indicted
April 19, 2022
A local detective has been indicted by an Oklahoma grand jury for allegedly stealing pills from an evidence room.
According to court records, 39-year-old Weatherford Police Detective Jeremy Anderson has been charged in Custer County District Court with a felony count of larceny of a controlled dangerous substance and a misdemeanor charge of willful neglect to perform a duty.
A probable cause affidavit obtained by Paragon Communications said that on or about February 26, 2021 through September 9, 2021 Anderson allegedly took 99 tablets containing Fentanyl from the Weatherford Police Department evidence room.
If convicted, the felony charge is punishable by imprisonment for not more than 10 years.
Anderson's first court date, a preliminary hearing conference, is scheduled to take place July 8.
According to the court document, the joint investigation into the crime included officers from the Weatherford Police Department, the Oklahoma State Bureau of Investigation, and the District 2 Drug Task Force.
2. Medal of Honor Recipient Returns to Western Oklahoma
October 21, 2022
A local hero returned to his roots on Friday.
Master Sergeant Earl Plumlee, a Merritt graduate, was in Elk City Friday where he was honored before a large crowd at the recently opened Arrowhead Activity Center.
Plumlee was recently awarded the Medal of Honor by President Joe Biden for the actions he took as he engaged insurgents at a U.S. base near Ghazni, Afghanistan on August 28, 2013.
Speaking exclusively with Paragon Communications, Plumlee talks about returning home to Elk City – a place he has sparingly visited since graduating Merritt High School in 2000.
Plumlee joined the Oklahoma Army National Guard in 1998, and following his high school graduation, he joined the U.S. Marine Corps, where he served until 2008. In 2009, he enlisted in the U.S. Army.
Plumlee said after receiving the Medal of Honor last December, he did what most Americans do: went back to work.
Plumlee currently serves as a Senior Weapons Sergeant with Headquarters and Headquarters Company, 1st Special Forces Group at Fort Lewis, Washington.
1. Mid Term Elections Favor Western Oklahoma Candidates
Primary elections were held for two Oklahoma House of Representative seats in June, one in District 55 and the other in 57. The hotly contested District 57 race went to incumbent Anthony Moore, gaining 62% of the vote over challenger Kristen Kelley Poisson.
District 55 will have a new representative with Nick Archer gaining 53% of the vote over Jeff Sawatzky and Tad Boone.
That position is being vacated by Todd Russ due to term limits.
Speaking of Todd Russ, his bid for the State Treasurer position has advanced to a runoff election with Clark Jolley after Russ gained 48% of the vote.
Russ would defeat Jolley in the runoff election in August and ultimately take the seat by obtaining 64% of the vote in the general election.
For State Senate, Republican incumbent Darcy Jech retained his seat in District 26 after defeating fellow republican Brady Butler in the runoff election.
U.S. Congressman Frank Lucas of Cheyenne won re-election over challenger Jeremiah Ross by getting 74% of the vote in the general election.
Copyright 2022 Paragon Communications. All rights reserved. This material may not be published, broadcast, rewritten, or redistributed without permission.