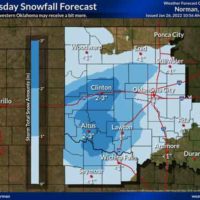 January 26, 2022
By News Director Jared Atha
Winter weather has moved into western and southwestern Oklahoma which has prompted the National Weather Service in Norman to issue a winter weather advisory for much of the listening area.
According to meteorologists, the advisory is in affect due to some parts of the area possibly receiving up to 3" of snow before the storm moves out of the area over night.
KOCO Meteorologist Jonathan Conder says the heaviest snow accumulations could happen between now and 7p.m.
The National Weather Service says the winter weather advisory was issued until midnight for area counties including Roger Mills, Dewey, Custer, Beckham, Washita, Caddo, Harmon, Greer, Kiowa, and Jackson counties.
Copyright 2022 Paragon Communications. All rights reserved. This material may not be published, broadcast, rewritten, or redistributed without permission.