January 24, 2023
By News Director Jared Atha
What could have been a tragic situation Saturday night had a happy ending thanks to the Elk City Fire Department.
The incident started when a 2-year-old boy had wandered away from his Clinton home at around 6 p.m. Saturday. Clinton authorities were notified who would request assistance from the Custer County Sheriff's Office, Beckham County Sheriff's Office, and the Oklahoma Highway Patrol to help with the search.
Elk City Fire Chief Kyle Chervenka said his department was requested to help in the search as well, due to the fact that they had a valuable tool that nobody else has: a drone with a thermal camera.
The boy was found curled up next to a tree, asleep and unharmed.
He was taken to the emergency room at Weatherford Regional Hospital to be checked out and was released a short time later.
Copyright 2023 Paragon Communications. All rights reserved. This material may not be published, broadcast, rewritten, or redistributed without permission.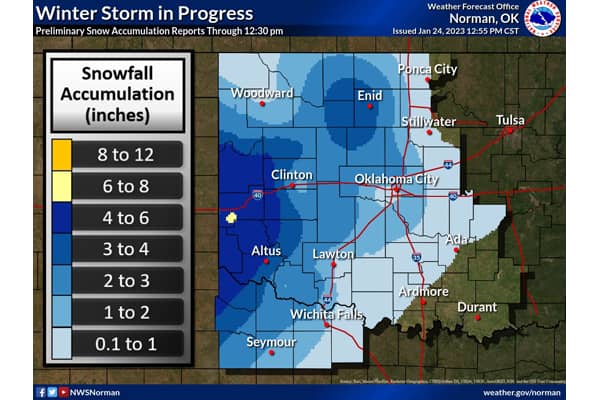 January 24, 2023 By News Director Jared Atha The majority of western Oklahoma remains in a winter storm warning until 6a.m. tomorrow. Meteorologist with the National Weather Service in Norman says the winter storm that has dumped