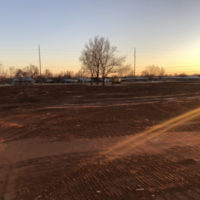 January 24, 2023
By Landry Brewer
At Fairview Elementary, they razed the roof. And the walls, floors, and ceilings.
Dirt and memories are all that remain of the school where so many Elk Citians were educated during their youngest years.
BEGINNINGS
As Elk City's population grew in the 1940s, more elementary school space was needed. To accommodate the growth, Fairview Elementary was built on Lusk Ave. between 6th St. and 7th St. and housed its first students in 1951.
CHANGES
According to Lynn Kennemer's history of Elk City, the school system purchased a metal building from the area Vo-Tech and moved it to Fairview in 1974 to provide more classrooms.
Then, because of dramatic oil-boom-related population and school-enrollment increase, four more classrooms were added at Fairview in 1981.
As a neighborhood elementary school, its students were known as the Fairview Blue Devils until the early 1980s when, because of local sentiment, the school nickname was changed. Students became Fairview Falcons instead.
A gymnasium was built on school grounds in the 1990s.
During the same decade, Fairview, along with the city's other elementary schools, changed from being a neighborhood Pre-K–4 school to being a grade center.
A MATTER OF PRINCIPAL
Kenneth Hart was the longest-serving Fairview Elementary Principal.
Hired in 1966 by Elk City Superintendent Jerry Kirk, he served under five more superintendents—Joe White, Jerry Doyle, Don McDonald, Bruce Miller, and Galeard Roper—before retiring after 30 years at Fairview's helm in 1996.
CLOSING TIME
Elk City's new Elementary School, west of Pioneer Road, was built to house all of the city's youngest students. When the new school opened in 2018, Fairview and Northeast Elementary closed their doors.
Under the watchful eye of its final principal, Pam Joy, Fairview Elementary's last day educating students was January 12, 2018.
GONE WITH THE WIND
The Fairview building at 1502 W. 7th sat largely unused until last June when the Elk City School Board approved its sale to local contractor Joe D. Hall. Demolition of the building began in December and was recently completed.
After standing for 72 years and educating young Elk City students for 67, the Fairview Elementary building is gone.
All that remains is the soil where it stood. That and the thousands of memories of the administrators, faculty, staff, students, and parents who passed through its doors.
Copyright 2023 Paragon Communications. All rights reserved. This material may not be published, broadcast, rewritten, or redistributed without permission.