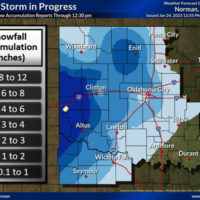 January 24, 2023
By News Director Jared Atha
The majority of western Oklahoma remains in a winter storm warning until 6a.m. tomorrow.
Meteorologist with the National Weather Service in Norman says the winter storm that has dumped anywhere between 4" – 8" on parts of the region is pushing off to the east.
Officials with the Oklahoma Department of Transportation ask that motorists practice caution when driving, however roads including highways and Interstate 40 are being reported as being in good condition due to how warm the conditions were before the storm struck.
However there are concerns of the slushy conditions freezing and possible black ice forming on roadways over night, as forecasters are calling for below freezing temperatures once the sun goes down.
Power doesn't seem to be an issue either as both Public Service Company of Oklahoma and Northfork Electric Cooperative's coverage maps are showing little to no power outages in the area.
Copyright 2023 Paragon Communications. All rights reserved. This material may not be published, broadcast, rewritten, or redistributed without permission.