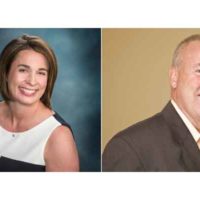 January 14, 2022
By News Director Jared Atha
Southwestern Oklahoma State University has announced the promotion and appointments of two current employees.
Dr. Lincoln Brown has been named the director of graduate programs for SWOSU's Everett Dodson School of Business and Technology on the Weatherford campus, while Dr. Trisha Wald has been named chair of the Business Department.
As graduate director, Dr. Brown will focus on recruitment of new students as well as advising current students who are pursuing master's degrees in business. Dobson SBT currently offers two graduate degrees: Master of Business Administration (MBA) and Master of Science in Management.
Dr. Wald is a graduate of Thomas High School, a 2003 graduate of SWOSU, and a 2006 graduate of the University of Oklahoma College of Law, where she graduated with honors.
After practicing law for a few years, Wald came back to SWOSU and started teaching in the Fall of 2008. While at SWOSU, she has taught classes in business law, tax law and accounting. In addition to teaching, she has been active in scholarly activities through research and presentations with both the Academy of Legal Studies in Business (ALSB), a national group, and its regional affiliate, the Southern Academy of Legal Studies in Business (SALSB).
Copyright 2022 Paragon Communications. All rights reserved. This material may not be published, broadcast, rewritten, or redistributed without permission.