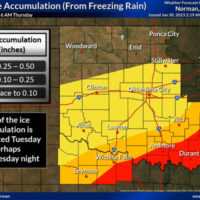 January 30, 2023
By News Director Jared Atha
Western Oklahoma may have dodged Monday morning's "thunder sleet" and icy weather that caused problems in the Oklahoma City metro, but the region may not be out of the woods just yet.
According to National Weather Service Meteorologist Nolan Meister Monday was the first of three waves of winter weather this week and says western and southwest Oklahoma could see precipitation arriving on Tuesday.
Meister said the third round should arrive late Wednesday morning into Wednesday night, bringing with it a mix of freezing rain and rain.
The National Weather Service has issued a winter weather advisory for most of western Oklahoma starting at 6a.m. Tuesday and expiring at noon on Wednesday.
Forecasters said that if any sleet or ice does fall, they're not expecting any power outages, however drivers are still urged to use caution when out on the roads.
Copyright 2023 Paragon Communications. All rights reserved. This material may not be published, broadcast, rewritten, or redistributed without permission.